And I thought 2009 could not get any lousier.
On the eve of Rajoelina announcing that
he broke off all mediation talks in Madagascar and will organize with his government parliamentary elections
, information that the rosewood illegal trafficking is still underway made surface.
A
large shipment of illegal timber by a French shipping company is expected on

december 22nd
.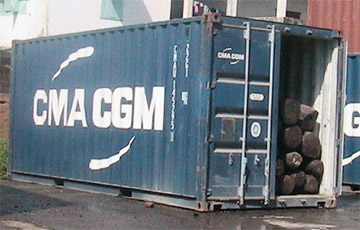 ( Images via news.mongabay.com)

In effect the traffickers of the world are saying:
"Merry Christmas, Madagascar forest, it was fun having you around, no hard feelings Ok ? It's not personal, it's just business. Enjoy desertification while we make millions of dollars"
Yes I am pissed off.
The current
government has already sold Madagascar Uranium 5 cents on a dime to an Indian Company named Varun
(updated link) and now they are still leaking out the country's natural resources as we speak.
It's not like they are taking us by surprise either.
Remember Black Monday on Jan. 26th when Antananarivo was looted while security forces were nowhere to be found ? Well, it turns out that was just the tip of the iceberg.
The
real goal was to take control of the Rosewood business the same day by sending gangsters into National parks and effectively starting the illegal trafficking
.
Reporter Razafison
investigates
( by the way, a must-read blog about Conservation in Madagascar):
"Elles ont profité du trouble politique pour opérer une razzia un peu partout dans l'île, un hotspot de la biodiversité mondiale. Selon James MacKinnon de Conservation International Madagascar, le taux de déforestation des aires protégées est de 0,13 % par an contre 0,65 % pour les aires non protégées. Mais, en temps de crise, les pillages des forêts sont intenses et incontrôlés."
I do not care about keeping a modicum of neutrality anymore. I waited and waited for them to redeem themselves and give me a reason to hope. I am done waiting.
This transitional government has proven 10 times now that they are in it to sell Madagascar to whoever offers the most money.
I want them out now. No make-believe elections that are paid for by the Rosewood money.
There is a reason why they will not share the power with others. They have some shaddy businesses to hide, that's the reason.
All I want for Christmas are leaders who are not selling away my homeland.
All I want is to not go back to a desert island because thieves had to make a few more bucks.
Happy Holidays, still.