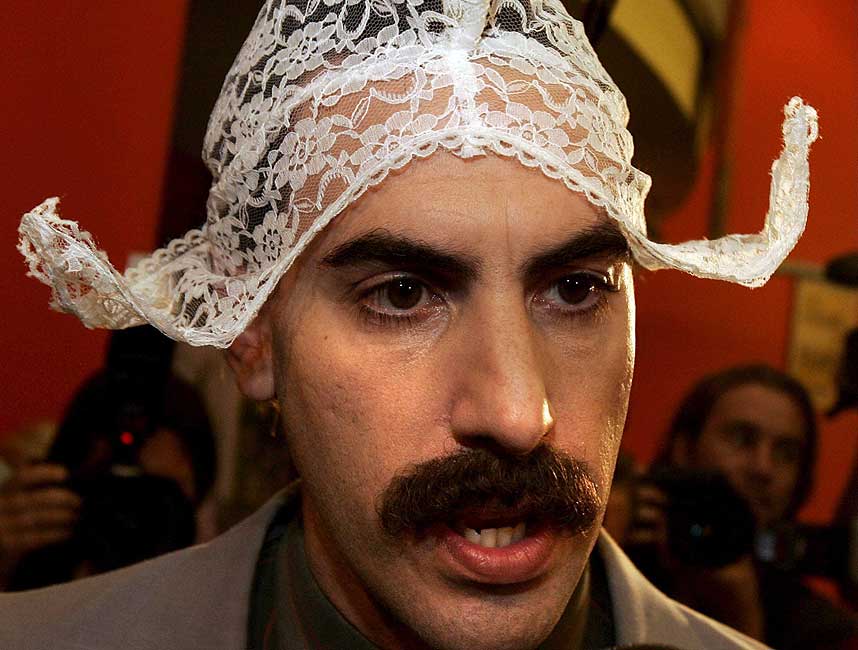 I think Sasha Baron Cohen is a trailblazer in comedy. I think his comedic act is at times hilarious and he often asks relevant questions. I watched clips of "Borat"the movie on the web and I laughed wholeheartedly. I am even biased towards liking him because he was the Lemur King in "Madagascar" the animated movie.
I also believe humor is the best way to address and fight ignorance and bigotry. But I won't watch "Borat" in theaters.
Why ?
Because I believe in some ways, "Borat" lost its purpose by picking Kazakhstan as his country of citizenship. Cohen's appeal is his willingness to push the envelope to expose bigotry and racism in a humoristic manner. I have no problem with that. However, he "chickened out" by choosing Kazakhstan. Why picking on them and portraying them as an antisemitic country? Because the abroad community of Kazakhstan is not that influential and in the grand scheme of the global village, Kazakhstan has very little pull. And that is my main problem with the movie.
Let's imagine this scenario for a second:
Jamel Debouze
, famous French comedian of Maroccan descent and producer of the very important movie "
Indigenes"(days of Glory in US)
, makes a movie about a local Malagasy reporter who is send to France to learn about French culture. He puts a little make-up on ( not too much because Jamel could pass as a Malagasy), speaks a broken French language, carries a chicken in the Parisian metro and openly wonders why there are so many blacks and Arabs in France.
It could make for awesome comedy and could expose some lingering issues in France.
Still, I would obviously have a problem with it because:
1) It would give a bad name to Madagascar.
2) He would not be Malagasy and yes it does matter in that circumstance.
3) Finally, he would have chosen Madagascar because realistically on the global scale, no one cares if Malagasy people are offended. We don't matter that much yet. Try that being a Nigerian or an Algerian and it would be a whole different story.
Of course, it's all hypothetical right now, but this is exactly what people of Kazakhstan are faced with right now. And Why ? Because they don't matter much compared to the other nations.
I love you Sasha but this I cannot condone. So I will watch Ali G on tv but there will be no Borat in theaters for me.
Tags: