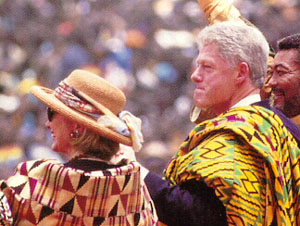 (via taiwandc.org)
I miss
Bill Clinton
. He is the only political figure who could declare "over the top" sentences and one would still think "hey, why not ? You go Billy Boy". For example, yesterday,
he said to the labour Party
in England:
"If we were the most beautiful, the most intelligent, the most wealthy, the most powerful person - and then found all of a sudden that we were alone on the planet, it wouldn't amount to a hill of beans [...] Society is important because of Ubuntu."
Ubuntu, you ask ? Zulu word for Humanity to others or in other words, a person is only a person through their relationship to others as the article pointed out. Not the linux Udungu that I know nothing of ( Mosi, you should check this
link
, there is something about Kerala and using Linux in it)
A better way to describe it might be the story shared this fellow Cunnigham at the end: "to me, it means sitting down in a Zulu hut in KwaZulu-Natal sharing scarce food and a brew and a few stories." (change the hut to a tent, add a fire and songs and you have a prototypical Malagasy firecamp settings.)
So when They said that
Clinton was the 1st Black American President
,
they really meant African President of the US. In light of this new event, I propose that Clinton was not maybe not the 1st African President of the US, but definitely the 1st US President who was inspired by Malagasy wisdom (or common sense). Because Udungu is literally "
fiahavanana
" in Malagasy and that pretty much defines traditional Malagasy society.
But maybe Clinton has come back after all. His
take down of the administration's failure
to try to hunt down Bin Laden despite the warnings his gvt provided. It was the kind of speech the political scene needed to hear. As this fellow blogger pointed out,
"black" Clinton has indeed returned, with a vengeance.
Tags: