I recently wrote briefly about how
slow internet connection prevented Madagascar from being more active in the global conversation
(in
French here
) hence emphasizing the role of the Malagasy diaspora in keeping the exchange active. This problem is certainly not limited to Madagascar in Africa. It might very well be that one of the future major obstacles to Africa's development is the lack of connectivity. I am aware that there are other more pressing issues right now but being able to exchange rapidly with the rest of the world might be the equalizer that Africa needs to level the playing field. However Here is how wide the gap is:
(via
Martin
)
Those little "spaghettis" that you can barely see are the fiber optic cables going to Africa, with the 2 major ones servicing mostly RSA and Egypt. A
closer look would be even more depressing for some countries
(Madagascar included). Compare this to the layers of "lasagna" between Europe and North-America and you have a good idea of the magnitude of the problem.
Now contrast that with this
great map
found at
Hash's whiteafrican
.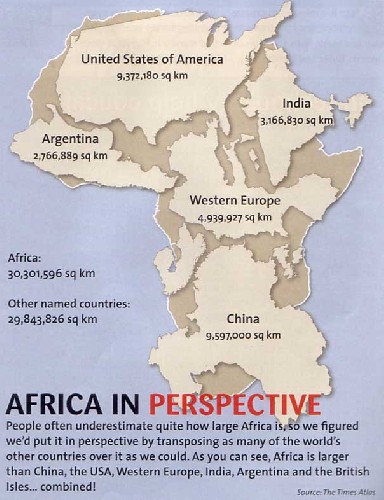 A small problem to solve it isn't (sorry, I had to go Yoda there to sound wiser.)
The whole reason for this post was
one of the post
stressing that Africa is a land of opportunity on
Hjk's TED series
of articles . I 100% agree with Naidoo's vision but things need to start changing gear soon for Africa to be competitive on the global level. Before the information gap gets even wider. Maybe fiber optic cables is a lost cause. Satellite connection may be the solution, there is no inequality in satellite's coverage, the whole planet is covered all the same.
Update
:
32.5 million commitment b IFC for cable
that will serve 21 Sub-Saharan african nations ( Madagascar included ).
In unrelated news, I will be in NY next week for the
Youth Assembly at the UN
. Here is a fun map of the city by neighborhood, I will be wandering in the "Tudor" quarter. (Yes, I am on map rampage, this
one
is from the fabulously entertaining blog
strangemaps
).
So if you are in the area and you want to meet up for coffee or bonbons, send me an email (in the left column).